A Graphic Memoir
Written by Misty and David Wilson, Illustrated by David Wilson
I gave Play Like a Girl five stars because this book is inspiring and positive. Misty does not let anyone tell her she can or can't do what she loves. She is positive because she believes that she is going to win every game and she does. My favorite part of the book is when Misty stops caring what anyone thinks and finds the right friends that do not pick on her, friends that she can rely on. I would recommend this book to a friend because it is inspiring and positive.
Reviewed by Gabriela, 5th Grade Student, Bacchus Elementary
Review shared in February 2023
Rating: ★★★★★ (5 stars)
Interest Level: Grades 5-8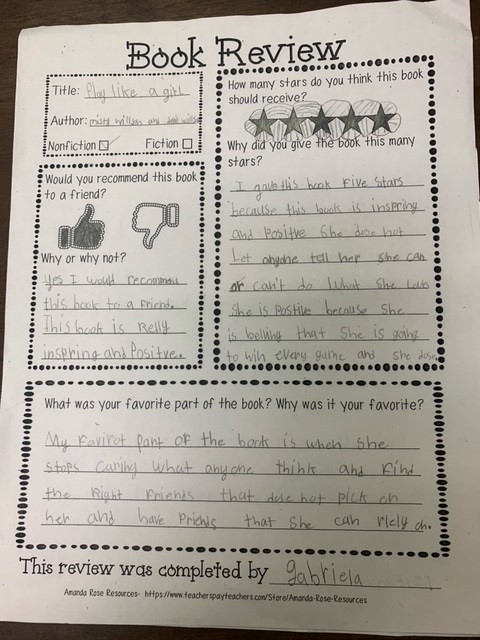 Play Like a Girl
Written by Misty and David Wilson, Illustrated by David Wilson
Balzer + Bray, Harper Alley, imprints of HarperCollinsPublishers
258 pages
Release Date: September 27, 2022
ISBN: 9780063064683
A review copy was provided by the publisher.
Tags:
2022 Middle Grade Graphic Novels
,
Bacchus Elementary Student Reviews
,
Biography
,
David Wilson
,
Football
,
Gabriela
,
Gender Roles
,
Memoir
,
Memoir Graphic Novels
,
Middle School Graphic Novels
,
Misty Wilson
,
Sports Graphic Novels
,
Student Review