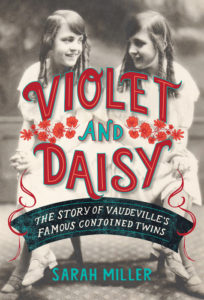 Written by Sarah Miller
Violet and Daisy Hilton were born conjoined. Their birth mother was appalled by the situation, and not much was known medically about conjoined people at the time. Soon they were sold to someone who said she would like to adopt them. They were also adopted into the life of sideshows, medical examinations, and Vaudeville. Financially they were dependent upon their caretakers and show managers, even though they were financially successful. Violet and Daisy vowed to make it through life together no matter what. This interesting biography and heartwarming look at siblings will fascinate readers grades 6 and up.
Reviewed by Jessica Moody, Library Technology Coach, Olmpus Jr High
Review shared in January 2023
Rating: ★★★★½ (4.5 stars)
Interest Level: Grades 6-12
Violet and Daisy: the Story of Vaudeville's Famous Conjoined Twins
Written by Sarah Miller
Schwartz & Wade Books
310 pages
Release Date: April 21, 2021
ISBN: 9780593119723
A review copy was provided by the publisher.
Tags:
2021 YA Nonfiction
,
Biographies
,
Conjoined Twins
,
Daisy Hilton
,
Entertainers
,
Jessica Moody
,
narrative nonfiction
,
Sarah Miller
,
Siblings
,
Sisters
,
Twins
,
Violet Hilton
,
Women Biography