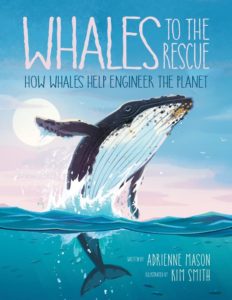 How Whales Help Engineer the Planet
Written by Adrienne Mason, Illustrated by Kim Smith
This is a interesting and fact filled book about whales and their impact on our planet. It provides lots of information on how whales live and how they affect their environment and ours as well. It has quite a lot of text, but also colorful illustrations and fun facts. This would be a great choice for the older student interested in whales or environmental issues. It does a good job of explaining global warming without being preachy or using fear. There is a whole section on whale poop that most kids would find gross and interesting. Overall this is a great book to learn about whales, our interdependence on the natural world, and how important our oceans are. I recommend it for 4th grade and up.
Reviewed by Kaylene Fetzer, Librarian, Magna Elementary
Review shared in December 2022
Rating: ★★★★✩ (4 stars)
Interest Level: Grades 4-7
Whales to the Rescue: How Whales Help Engineer the Planet)
Written by Adrienne Mason, Illustrated by Kim Smith
Kids Can Press
40 pages
Release Date: September 6, 2022
ISBN: 9781525305375
A review copy was provided by the publisher.
Tags:
2022 Children's Nonfiction
,
Animals
,
Conservation
,
Ecology
,
Environmental Protection
,
Marine Animals
,
Marine Ecology
,
Marine Life
,
Oceanography
,
Whales