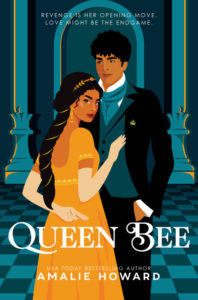 Written by Amalie Howard
Three years ago, Ela Dalvi's best friend Poppy and Lord Keston, a boy she liked, sabotaged her reputation. On that day, she lost everything she had, including her father who never talked to her again. Soon, Ela's kindness causes her to become an heiress to another fortune. When her father dies unexpectedly, Ela sees her opportunity to get revenge on those who wronged her. Returning as the mysterious heiress, Lyra Whitley, Ela assimilates herself into society where no one recognizes her. Things, however, don't quite go as planned. Lord Keston begins showing romantic intentions towards her. Will she succeed in bringing Keston and Poppy down? Or will she fall in love with the boy she vowed to get revenge on?
Count Of Monte Cristo meets Jane Austen, this book is engaging and impossible to put down. Told through alternating timelines, readers see both sides of Ela and why she wants revenge. Poppy is your classic mean girl and Lord Keston seems a bit dense, but overall, the characters are likable and well-developed. This is a must-read for fans of Jane Austen, revenge plots, or anyone who has wished they could get a fresh start on their current life. 5 stars, Grades 7 and up
Reviewed by Kira Moody, SLCO Librarian and Olympus Jr. Community Member
Review shared in February 2023
Rating: ★★★★★ (5 stars)
Interest Level: Grades 7 and up
Queen Bee
Written by Amalie Howard
Joy Revolution
368 pages
Release Date: April 4, 2023
ISBN: 9780593483503
An advance reader's copy was provided by the publisher.
Tags:
2023 YA Fiction
,
Amalie Howard
,
Historical Fiction
,
Kira Moody
,
Regency Fiction
,
Revenge Fiction
,
Romance Fiction