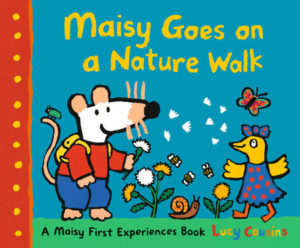 Written and Illustrated by Lucy Cousins
Maisy reminds me of Pete the Cat. This fun, little story of she and her friends going on a nature walk is a lot like Pete the Cat Hide and Seek. The kids in our school love Pete, so I'm hopeful they will like Maisy as well. It's a good read-aloud for the littles to search for lots of different creatures. That's something they will enjoy doing all together. The art is fun for the kids to look at as well. Fun story!
Reviewed by Merri Rygg, Librarian, Harry S Truman Elementary
Review shared in June 2023
Rating: ★★★★✩ (4 stars)
Interest Level: Grades PreK-2
Maisy Goes on a Nature Walk
Written and Illustrated by Lucy Cousins
Candlewick Press
32 pages
Release Date: May 24, 2022
ISBN: 9781536224245 (hardcover) / 9781536230765 (paperback)
A review copy was provided by the publisher.
Tags:
2022 Picture Books
,
Animals Picture Books
,
Exploration Picture Books
,
Look and Find Picture Books
,
Lucy Cousins
,
Maisy
,
Merri Rygg
,
Nature Picture Books
,
Parks Picture Books
,
Pete the Cat
,
Picnics Picture Books
,
Ponds Picture Books