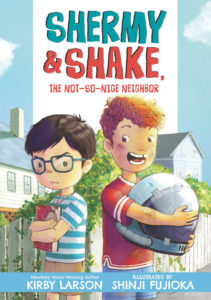 Written by Kirby Larson, Illustrated by Shinji Fujioka
An entertaining early chapter book about two boys who are often forced to have adventures together. It's summer break and Shermy, who likes things just so, gets a surprise visit from an alien visiting from Jupiter. Only the alien is not an alien or from Jupiter, it's rowdy Shake from Walla Walla visiting his grandma. Shermy quickly finds out summer is not going to go his way; you know, the quietly reading under a tree kind of summer. Shermy and Shake could not be more different; one is very particular in the way he does things, somewhat thoughtful and neat, while the other tends to be disorderly, careless, and self-centered at times. Will the two find a way to combine their differences to have an exciting summer? The magnificent illustrations help the reader feel like they are part of the story and are part of the adventures too.
Reviewed by Dana Valencia, Librarian, Oakridge Elementary
Review shared in June 2023
Rating: ★★★★★ (5 stars)
Interest Level: Grades 1-4
Shermy and Shake, the Not-So-Nice Neighbor
Written by Kirby Larson, Illustrated by Shinji Fujioka
Candlewick Press
84 pages
Release Date: May 9, 2023
ISBN: 9781536219425
A review copy was provided by the publisher.
Tags:
2023 Chapter Books
,
Dana Valencia
,
Friendship Fiction
,
Kirby Larson
,
Neighbors Fiction
,
Realistic Fiction
,
Shinji Fujioka
,
Summer Fiction