Wretched Waterpark * Vampiric Vacation * Camp Creepy * Menacing Manor
Borrow the Sinister Summer ebooks in Granite's Sora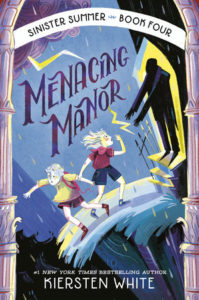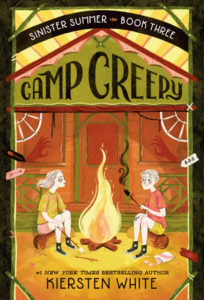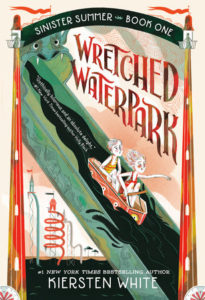 Written by Kiersten White
The Sinister-Winterbottom family is so excited to have a summer vacation together, but there is one problem: their parents have suddenly disappeared. Now Will, Alex, and Theo have been left in the care of thier aunt, who for some reason seems not quite sure what to do with human children.
Their summer begins at the Wretched Water Park, where they must save the owner who is being held captive, followed by a Vampiric Vaction at a spa where the owners have also disappeared and the guests who arrive at the Resort somehow never find the urge to leave. Also, are there vampires around? After solving the mystery at the spa, their aunt then takes them to the summer every child should have at Camp Creepy, where everyone always is super excited and happy about everything. But why? Also, why is the owner of Camp Creepy always looking for her nephew, and why are some of the Sinister-Winterbottom clan suddenly not acting like themselves? They are molding into the rest of the camp, enjoying and doing whatever everyone else does. Including Boondogles!!
Upon finishing the mystery of Camp Creepy, Aunt Saffronia tells the children she has asked too much of them to find what they are looking for and will take them back to where they will be safe. However, the children all decide that they truly want to find where their parents have gone as they have been picking up clues in all thier adventures. They tell Saffronia no, and to take them to the next stop, the Menacing Mannor. Here they get involved in a science camp, only to find out the their camp director is working for the infamous Edgart, who used to know thier parents and seems to know something about where they are, but not in a good way. The manor is full of surprises and twists, which any good reiviewer would never reveal as it would only give spoilers. However, I can tell you I am currently left on a cliff and can now not wait for the next book to come out so issues can be resolved.
This series is full of fun mysteries, and oh my, the vocabulary is awesome! Not only do they use big words like superfluous, but they also tell the definition in the story. The age range for this book is probably 9-12, or an advanced reading eight year old. The chapters are short, and the average number of pages seems to be around 300.
The story does move fast, and keeps even my easily distracted nephew intrigued.
Reviewed by Jalene Magee, Librarian, Redwood Elementary
Review shared in July 2023
Rating: ★★★★✩ (4 stars)
Interest Level: Grades 3-7
Sinister Summer Series
Menacing Manor
Written by Kiersten White
Delacorte Press
263 pages
Release Date: May 2, 2023
ISBN: 9780593570012 (hardcover) / 9780593570043 (paperback)
Review copies were provided by the publisher for this series.
Tags:
2021 Middle Grade Fiction
,
2022 Middle Grade Fiction
,
2023 Middle Grade Fiction
,
Adventure Fiction
,
Amusement Parks Fiction
,
Aunts Fiction
,
Camps Fiction
,
Haunted Houses Fiction
,
Horror Fiction
,
Jalene Magee
,
Kiersten White
,
Missing Persons Fiction
,
Mystery Fiction
,
Siblings Fiction
,
Sinister Summer
,
Summer Fiction
,
Twins Fiction
,
Vacations Fiction
,
Vampires Fiction