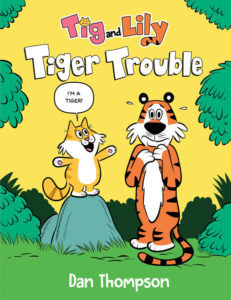 Written and Illustrated by Dan Thompson
Did you know that even though a housecat shares 95.6% of its DNA with a tiger, they are not the same…Tig the housecat thinks he's a tiger, while Lily the tiger is not so sure after talking to Tig. Tiger Trouble the first book in the Tig and Lily series by Dan Thompson, told in graphic novel format with colorful eye-catching illustrations. A fun story about believing in and being yourself. We also find out that friends can come in all shapes and sizes, and tails that may or may not stand up on their own. Fast facts and drawing lessons included.
Reviewed by Dana Valencia, Librarian, Oakridge Elementary
Review shared in May 2023
Rating: ★★★★★ (5 stars)
Interest Level: Grades K-3
Tig and Lily: Tiger Trouble
Written and Illustrated by Dan Thompson
Random House Graphic
96 pages
Release Date: May 9, 2023
ISBN: 9780593486283
A review copy was provided by the publisher.
Tags:
2023 Children's Graphic Novels
,
Animals Graphic Novels
,
Cats Fiction
,
Dan Thompson
,
Dana Valencia
,
Friendship Graphic Novels
,
Humorous Graphic Novels
,
Tig and Lily
,
Tigers Fiction