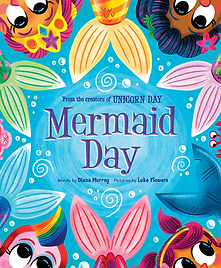 Written by Dianna Murray, Illustrated by Luke Flowers
We love mermaids at Arcadia Elementary and are always looking for something new. This is a fun book with rhyming text. The illustrations are bright and cartoonish. The mermaids are dressed well and their clothing will not cause any concerns with parents.
The ocean and it's creatures gather to celebrate Mermaid Day, "beneath the waves that splish and splash, the mer-queen throws a great big bash." Suddenly an unexpected visitor arrives, a shark, and the remainder of the party remains in question. Thankfully, the sea creatures are able to get along and invite the shark to join. Everyone has a wonderful day and "the most mer-mazing party ends, with sweet dreams in a sea of friends."
This would be a fun read aloud. It lists several different kinds of sea creatures, and has great rhythm. Be aware…the cover has glitter.
Reviewed by Angie Winward, Librarian, Arcadia Elementary
Review shared in August 2023
Rating: ★★★½✩ (3.5 stars)
Interest Level: Grades K-4
Mermaid Day
Written by Dianna Murray, Illustrated by Luke Flowers
Sourcebooks Jabberwocky
32 pages
Release Date: July 4, 2023
ISBN: 9781728271323
A review copy was provided by the publisher.
Tags:
2023 Picture Books
,
Angie Winward
,
Diana Murray
,
Fantasy Picture Books
,
Luke Flowers
,
Marine Animals Picture Books
,
Mermaids Picture Books
,
Ocean Picture Books
,
Party Picture Books
,
Sea Adventure Picture Books
,
Stories in Rhyme