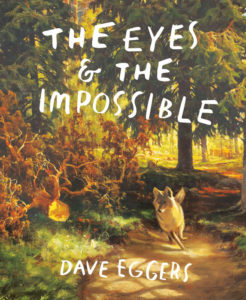 Written by Dave Eggers, Illustrated by Shawn Harris
The Eyes & the Impossible is an enjoyable animal adventure story. Johannes is a free roaming dog situated in a park such as the Golden Gate Park. Johannes runs daily throughout the park, which is visited by humans, reporting to Freya, Meredith, and Samuel, three old Bison who are the Keepers of the Equilibrium. Johannes and other Assistant Eyes—a gull, squirrel, pelican, and a raccoon, discover an art museum being built in the park that is full of rectangles. These rectangles or pieces of art are very attractive to Johannes. He soon is seen by humans adoring the art and so his adventure begins. The story is sometimes humorous, sometimes tragic, and perfect for whimsical and sensitive souls.
The artwork in this book is also intriguing. It consists of spreads reproducing magnificent fine art landscapes into which Johannes is cleverly inserted. The paper and binding is of high quality. This would be a good read aloud in a classroom and a great addition to any home or school library.
Reviewed by Kristen Hunt, Librarian, Whittier Elementary School
Review shared in August 2023
Rating: ★★★★★ (5 stars)
Interest Level: Grades 4-7
The Eyes & the Impossible
Written by Dave Eggers, Illustrated by Shawn Harris
Alfred A. Knopf / McSweeney's
249 pages
Release Date: May 9, 2023
ISBN: 9781524764203
A review copy was provided by the publisher.
Tags:
2023 Middle Grade Fiction
,
Adventure Fiction
,
Animal Adventure Fiction
,
Animal Fantasy Fiction
,
Animals Fiction
,
City Life Fiction
,
Dave Eggers
,
Dogs Fiction
,
Fantasy Fiction
,
Kristen Hunt
,
Parks Fiction
,
Shawn Harris