Written by Gary D. Schmidt
"Wait a minute. All twelve?"

"All twelve."

"Isn't one of those Labors going down to hell?"

"There and back," said Lieutenant Colonel Hupfer. "As I indicated to Ms. de la Peña, it's a tough world, Beal."

He leaned down over me and whispered, so quietly that no one else could hear, "But I think you already know that."

I looked at him.

"Not that I care," said Lieutenant Colonel Hupfer.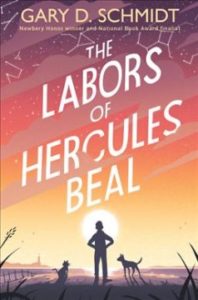 This book is good, just so good. Hercules Beal is starting out a new school year at a new school, with homeroom teacher Lieutenant Colonel Hupfer, who is just as strict as his name sounds. His parents recently died in a car crash, and he and his adult brother are trying to keep up the family business of the Beal Brothers Nursery and Garden Center, the most beautiful place on earth, according to Hercules. Lieutenant Colonel Hupfer assigns him a project to study and re-enact the labors of Hercules in his actual life. It's a Herculean task that will require all his ingenuity, friendship, and heart to achieve.
Readers that have enjoyed other Gary Schmidt books will recognize characters from some of his previous works. It is middle grade writing at its best: simple, educational, humorous, heartfelt, and honest. It is a story that delivers a sense of familiarity within the community of love and family.
Reviewed by Kristen Hunt, Librarian, Whittier Elementary School
Review shared in July 2023
Rating: ★★★★★ (5 stars)
Interest Level: Grades 4-7
The Labors of Hercules Beal
Written by Gary D. Schmidt
Clarion Books, an imprint of HarperCollinsPublishers
347 pages
Release Date: May 23, 2023
ISBN: 9780358659631
A review copy was provided by the publisher.
Tags:
2023 Middle Grade Fiction
,
Brothers Fiction
,
Coming of Age Fiction
,
Death Fiction
,
Friendship Fiction
,
Gary D. Schmidt
,
Greek Mythology Fiction
,
Grief Fiction
,
Hercules
,
Kristen Hunt
,
Mythology Fiction
,
Orphans Fiction
,
Realistic Fiction
,
Schools Fiction