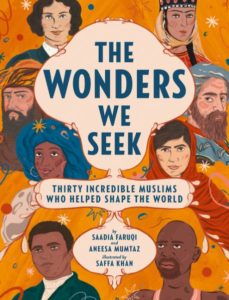 Thirty Incredible Muslims who Helped Shape the World
Written by Saadia Faruqi and Aneesa Mumtaz, Illustrated by Saffa Khan
This was a very interesting book, as it shared many stories of people who were of the Muslim faith that I had never heard of. Did I know previously that the creator of eye contacts was Muslim and lived long ago? Had no idea! Honestly, it is just a really cool book that shows how rich, important, and incredible Muslim history is. Glad to have this in our library!
Reviewed by Chelsea Johnson, Media Clerk, West Kearns Elementary
Review shared in December 2022
Rating: ★★★★½ (4.5 stars)
Interest Level: 4th-8th Grade
LinkExcerpt
Author Website:
The Wonders We Seek: Thirty Incredible Muslims who Helped Shape the World
Written by Saadia Faruqi and Aneesa Mumtaz, Illustrated by Saffa Khan
Publisher
x pages
Release Date: 2020
ISBN:
Yes-A review copy was provided by the publisher.
---
Tags:
Categories: Elem. Nonfiction, Jr. High Nonfiction
Date Submitted: 12/06/2022
File link:
Web link:
Entry URL: https://www.granitemedia.org/wp-admin/admin.php?page=gf_entries&view=entry&id=15&lid=18880
Post Edit URL: https://www.granitemedia.org/wp-admin/post.php?action=edit&post=38674
Tags:
2022 Children's Nonfiction
,
Aneesa Mumtaz
,
Biography
,
Collective Biography
,
History
,
Illustrated Nonfiction
,
Islam
,
Muslims
,
Saadia Faruqi
,
Saffa Khan
,
Social Studies
,
World history