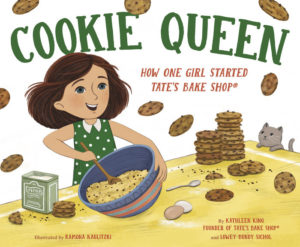 How One Girl Started Tate's Bake Shop
Written by Kathleen King and Lowey Bundy Sichol, Illustrated by Ramona Kaulitzki
This is the true story of Kathleen King, a young woman who started her own cookie selling business when she was only 11. Her parents ran a farm stand on Long Island, NY and Kathleen's dad told her if she sold her cookies at the stand every summer, she could keep the money for school clothes. Kathleen experimented many times to come up with her signature cookie, which to this day, is thin, buttery and crispy. Her cookies sold so well she was able to buy a new car when she turned 16! When she was 20, she opened her first bakery and twenty years later started a cookie company called Tate's Bake Shop. Kathleen's award-winning cookies are now sold in grocery stores all over the USA. This is an inspiring story about the perseverance and determination it takes to start a business, especially if you're a kid. Students who like checking out cookbooks will love this book, especially since one of Kathleen's cookie recipes is included at the back.
Reviewed by Andrea LeBaron, Librarian, Upland Terrace Elementary
Review shared in September 2023
Rating: ★★★★★ (5 stars)
Interest Level: Grades 2-6
Cookie Queen: How One Girl Started Tate's Bake Shop
Written by Kathleen King and Lowey Bundy Sichol, Illustrated by Ramona Kaulitzki
Random House
40 pages
Release Date: July 18, 2023
ISBN: 9780593485668
A review copy was provided by the publisher.
Tags:
2023 Children's Nonfiction
,
2023 Picture Books
,
Andrea LeBaron
,
Autobiography
,
Autobiography Picture Books
,
Baking
,
Baking Picture Books
,
Biography
,
Biography Picture Books
,
cookies
,
Cookies Picture Books
,
Cooking
,
Cooking Picture Books
,
Entrepreneurs
,
Entrepreneurship Picture Books
,
Kathleen King
,
Lowey Bundy Sichol
,
Nonfiction Picture Books
,
Ramona Kaulitzki