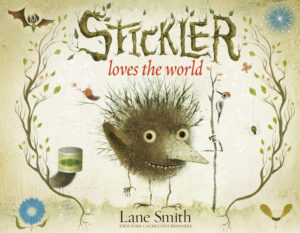 Written and Illustrated by Lane Smith
Lane Smith's Stickler Loves the World is such a fun and imaginative look into the world we may or may not see every day. Stickler finds new sticks that Crow would love, but where is Crow? As an alien (or is it?) with a cutting-edge helmet is guided through the forest by Stickler, a stick and nature loving creature, things are not as they have always appeared. The way Stickler describes everything is eye-opening, even to those who have seen them time and time again. The illustrations are detailed and full of color, the story is simple yet informative. A winner for all who love nature and even the weirdest of things (even stick-loving creatures with eight eyes).
Reviewed by Dana Valencia, Media Clerk, Oakridge Elementary
Review shared in September 2023
Rating: ★★★★★ (5 stars)
Interest Level: Grades PreK – 3
Stickler Loves the World
Written and Illustrated by Lane Smith
Random House Studio
40 pages
Release Date: August 22, 2023
ISBN: 9780593649831
Yes-A review copy was provided by the publisher.
---
Tags:
Categories: Picture Books
Date Submitted: 09/14/2023
File link: https://www.granitemedia.org/index.php?gf-download=2023%2F09%2FStickler.pdf&form-id=15&field-id=11&hash=c4442b1a13cf7df490417579399595c0e60991b2b043f0229e7c4bd2794ce2f1
Web link:
Entry URL: https://www.granitemedia.org/wp-admin/admin.php?page=gf_entries&view=entry&id=15&lid=19480
Post Edit URL: https://www.granitemedia.org/wp-admin/post.php?action=edit&post=40770
Tags:
2023 Picture Books
,
Animals Picture Books
,
Crows Picture Books
,
Dana Valencia
,
Imaginary Creatures Fiction
,
Imagination Picture Books
,
Lane Smith
,
Mindfulness Picture Books
,
Nature Picture Books
,
Our World Picture Books
,
Sticks Picture Books