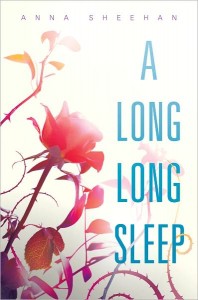 Written by Anna Sheehan

Rose is our futuristic Sleeping Beauty, and if you've ever woken up and can't remember where you are, then this book will seem vaguely familiar. Rose has been asleep for 62 years and when she is woken up, the world as she knew it is completely different. How scary! No family, no friends, nothing much familiar. And to make matters worse, someone or something is out to ""terminate"" her. With the help of her new friends, Bren and Otto, Rose is able to figure out who she is, but more importantly who she was.
I loved reading this book where each chapter was a revelation into Rose's past. The story was woven together so subtly that you just seem to ""awake"" a little more with each flashback and everything comes together to form a complete picture. Unlike the cover, the only thing pink and white about this book is Rose's life before her 62 year sleep, and even then all was not what it seemed.
Review by Christine Fotheringham, Rolling Meadows Elem. Media Center
Rating: ★★★★✩ (4 stars)
Interest Level: Grades 7-12
A Long, Long Sleep
Written by Anna Sheehan
Candlewick Press
342 pages
Release Date: August 9, 2011
ISBN: 9780763652609 (hardcover)
Tags:
A Long Long Sleep
,
Anna Sheehan
,
Fairy Tales Fiction
,
Robot Fiction
,
Romance Fiction
,
Science Fiction