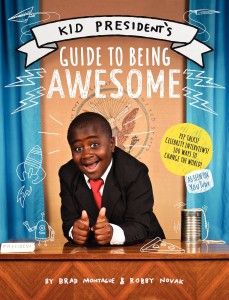 Pep talks! Celebrity interviews! 100 ways to change the world! As seen on YouTube!
Written by Brad Montague and Robby Novak
Robby Novak became a YouTube sensation with the help of his brother-in-law Brad. They set out to help kids be positive about the world and others. This book is a new way for them to share their message to "be awesome!" Some of the content in this book came from their YouTube videos, and some of it came from their television series, but it doesn't matter. It's all fantastic! Young and old will end up smiling while they read the book and at the end will want to be, well, more awesome…to themselves and others. Not all 100 ideas are serious, such as "mail your friend a corndog," but even that idea teaches to be kind. If we could get the world to read and follow this book, we would see miracles. But for now, I'll change myself and encourage those around me to do the same.
Review by Teresa Edmunds, Westbrook Elementary Media Center
Rating: ★★★★★ (5 stars)
Interest Level: 4-12
Kid President's Guide to Being Awesome
Written by Brad Montague and Robby Novak
Harper
238 pages
Release Date: February 3, 2015
Tags:
awesome
,
Brad Montague
,
Celebrities
,
Humor
,
Interviews
,
Kid President
,
Kid President's Guide to Being Awesome
,
Kindness
,
Robby Novak
,
Self-Help
,
Teresa Edmunds