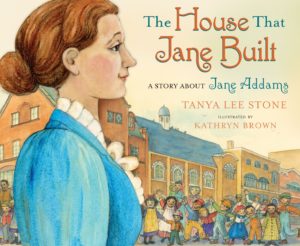 A Story About Jane Addams
Written by Tanya Lee Stone, Illustrated by Kathryn Brown
Jane Addams was born to a prosperous family. Her perspective was altered at the early age of six while on a trip with her father, where she saw families living in poverty. She vowed she would find a way to help people live better lives. She started the first settlement house in Chicago and went on to be an advocate for the poor, women, and people of color. When she saw a problem, she found a solution.
This biography of a woman with a huge heart and perseverance should inspire readers to take a look around them and find a way to make things better. I found the book inspiring and asked myself the question, "What should I do to make a difference?" The text is inspiring and illustrations are beautiful.
Review by Kay Thomas, Eastwood Elementary Media Center
Rating: ★★★★★ (5 stars)
Interest Level: Grades K-6
Jane Addams was always aware of those less fortunate that herself. She wanted to do something about it. Having wealth on her side and a progressive father who allowed her to go to college, Jane was able to make things happen. In Chicago, she decided to make a difference when she saw the plight of the many immigrants. She bought a large home, named it Hull House, and invited those less fortunate than herself to live there. Her work created a better life for everyone in all areas of their lives. This was the beginning of community centers. Her social work and activism for the poor, earned her the first American woman to receive a Nobel Peace Prize. This book is very kid friendly, easy to read with colorful and appealing illustrations. This makes for a book that could inspire children to look around and see what they could do the make life better. I know it did for me. Jane Addams is a wonderful role model for children and this book introducing her to children today should be in every library.
Review by Renee Larsen, Hillside Elementary Media Center
Rating: ★★★★★ (5 stars)
Interest Level: Grades K-3
Author Website: http://www.tanyastone.com/
Illustrator Website: http://www.kathrynbrownart.com/
The House That Jane Built
Written by Tanya Lee Stone, Illustrated by Kathryn Brown
Henry Holt and Company
32 pages
Release Date: June 23, 2015
Tags:
2015 Children's Nonfiction
,
Biography
,
Biography Picture Books
,
Chicago
,
Hull-House
,
Illusrated Nonfiction
,
Jane Addams
,
Kathryn Brown
,
Kay Thomas
,
Poverty
,
Renee Larsen
,
social issues
,
Social Justice
,
Social Workers
,
Tanya Lee Stone
,
The House That Jane Built
,
U.S. History