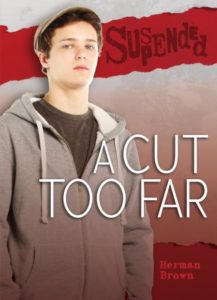 Suspended Series
Written by Herman Brown
Chase is unique. He plays baseball. His parents are divorced. He has a younger sister. He has friends in high school. He also has a bully. Ivan has bullied Chase since elementary school. Chase has tried to stay out of Ivan's way and take the bullying, both physical and verbal, without drawing attention to himself.
When Ivan posted on Facebook a picture of Chase's family—his mother's boyfriend is from Iran—and labeled it "terrorist" Chase had enough. He was going to make Ivan pay—somehow. With the help of a camera and Chase's friend's computer he posted pictures of Chase. The whole thing backfired. Chase was suspended from school instead of being arrested. Chase learned that taking this matter into his own hands was not the right way to deal with it. Chase's reaction of being suspended was unexpected and good.
We all need help to deal with some things in our lives. Chase received that help and made this better.
Review by Kristine Johnson, West Lake Junior High Media Center
Rating: ★★★★✩ (4 stars)
Interest Level: 7-12
Suspended Series
A Cut Too Far
Written by Herman Brown
Darby Creek
89 pages
Release Date: September 1, 2015
Tags:
2015 YA Fiction
,
A Cut Too Far
,
Bullying Fiction
,
Conduct of Life Fiction
,
Cyberbullying Fiction
,
Herman Brown
,
High Interest Low Vocabulary YA Fiction
,
High Schools Fiction
,
Racism Fiction
,
Realistic Fiction
,
Relationships Fiction
,
Revenge Fiction
,
Suspended