Bad Kitty goes to the Vet by Nick Bruel (Grades 2-4) -Latest book in the popular Bad Kitty series, there are now nine of them, this is a great book for reluctant readers.
Oona Finds an Egg by Adele Griffin and Mike Wu (Grades 2-4)
"Acclaimed Griffin deviates from her traditional middle- and high-school fare to create something for the elementary-school crowd. In this Flintstones-esque story, Oona Oodlethunk finds an egg. After lugging it back to her family's cave, she excitedly considers what the egg might become. Will it always remain an egg, or will it hatch into something either wonderful or dreadful? Patiently, she cares for Egg. However, unbeknownst to her, the day she goes to market, her younger brother, Bonk, trades Egg for Bruce Brute's bison bracelet. When Oona returns home, she is distraught that Egg is missing and searches everywhere around the cave and their yard. At last, Bonk confesses to his misdeed. He and Oona rush to Bruce's cave in time to see the egg crack and a beautiful baby stegosaurus emerge. Now the tension between Oona and Bruce escalates—who will win Steg's loyalty? Wu's hilarious charcoal drawings are sure to elicit giggles from young readers, adding levity to this classic story of sibling rivalry and neighborhood bullies." -Booklist, vol. 112, number 7, p62
Pugs of the Frozen North by Philip Reeve (Grades 2-4)
/* Starred Review */ Two kids and their 66 pugs enter a magical dog-sled race. The Cakes in Space (2015) team returns for a ridiculous winter adventure story. When the ocean freezes solid right underneath their boat and also freezes the boat itself, the Lucky Star's crew faces tough decisions. Shen's left behind with their cargo of 66 pugs. He finds a nearby town and learns that the frozen ocean is caused by True Winter, an once-in-a-lifetime event heralding a race to the top of the world, the winner gets a wish from the Snow father. Shen and Sika hitch the pugs  to her elderly's grandfather's sled he nearly won last True Winter, and Sika's wish is for him to become well and live long enough to race again. The wacky competitors include a villainous Brit who loves to cheat (with tricks like the classic misleading detour sign). The obstacles on the race range from yetis (who have a noodle bar, because "Yeti Spaghetti Bar sounded too obvious") to a Kraken. (McIntyre's doofy, bug-eyed pugs are never more hilarious than in the glorious two-page spread where they battle the sea monster.) As the Snow father can't save Sika's grandfather, the story's silliness seamlessly transitions to musings about the immortality of stories and an old man's positive end-of -life portrayal. A madcap, magical blend of fluff and other good stuff." -Kirkus Reviews, October 1, 2015.
Frank Einstein and the BrainTurbo by Jon Scieszka (Grades 4-6) -Third book in the popular Frank Einstein series
Haggis and Tank Unleashed: All Paws on Deck by Jessica Young- First book in what looks like will be a series about a clumsy Great Dane named Tank, and a cranky Scottie named Haggis.
ISBNs
9781596439771

9780545732796

9780385387965

9781419716430

9780545818872
The Magnificent Mya Tibbs by Crystal Allen (Grades 3-7)
/* Starred Review */ "Allen deftly explores the evolving friendships of Mya Tibbs  as she and her Spirit Week partner compete for VIP tickets to the Fall Festival. Nine-year-old Mya loves cowgirls, the rodeo, and jewelry. The Fall Festival has all her favorite things! She and her new best friend, Naomi, are determined to win the tickets together, but to Mya's dismay, she draws Mean Connie as her Spirit Week partner. Mya is stuck. Can she keep her promise to help Naomi and be a good partner? Even as she writes a very funny story, Allen neither flatters nor vilifies any characters, instead letting each one grow and make mistakes. As Mya tries to make the best of the situation, she learns that Connie isn't so mean, that Naomi isn't so nice, and that she herself can be a better friend. The author showcases different types of friendship throughout the story: as Mya and Naomi fall out, Mya and Connie grow closer; Mya's brother, Nugget, tries to make friends with a jock, taking his nerdy best friend for granted in the process; and twins Starr and Skye find their sisterly bond tested when their loyalties are torn between Mya and Naomi. Nuanced depictions of friendship coupled with larger-than-life and fully three-dimensional characters make this delightful book at once thoughtful and a riot to read." -Kirkus Reviews, October 15, 2015
A Whole New Ballgame by Phil Bidner (Grades 4-6)
"Red and Rip are best friends just beginning fifth grade. It's the first day of school and everyone appears to know who the teacher will be and how the year will progress—but not so fast…there is a new  teacher, a  young man with piercings, tattoos, and a whole new  way of teaching. Mr. Acevedo loves reading, will not abide test prep or standardized test-taking, and has a love of basketball. Readers will realize early on that Red is on the autism spectrum. Like their new teacher, Red and Rip share a passion for basketball. Narrated by Rip (better known as Mason Irving to Red, who insists on calling his friend by his full name and never his nickname), the book depicts the evolution of a  group of fifth graders who learn a  lot, grow a  lot, and help one another. The relationship between Rip and Avery Goodman (a girl in a wheelchair with anger issues) centers on a class project about gross things and highlights what nasty stuff gets caught on Avery's wheelchair wheels. Though the plot and its conclusion may be somewhat predictable, the charming and diverse characters as well as the engaging voice of Rip more than make up for it. VERDICT Pure fun with a lot of heart." -School Library Journal, vol. 61, issue 3, p131
Saving Mr. Terupt by Rob Buyea (Grades 4-7) -The third book in a popular series, this book will be a hit with fans of the first two, and attract some new readers as well. This series has been a sleeper hit at the Salt Lake City Library.
Cleo Edison Oliver, Playground Millionaire by Sundee Tucker Frazier (Grades 3-6)
"Future entrepreneur Cleo, unlike most fifth-graders, has her career path laid out; a new school assignment gives her the opportunity to jump-start her plans. Cleo's effervescent and upbeat, full of creative business ideas she tends to execute before securing the proper approvals from her loving adoptive parents. She counts on her best friend, Caylee Ortega, a born organizer, to make her ideas workable. Cleo's not all about the money. Her role model is an inspirational entrepreneur/celebrity with heart who advocates giving back to the community. Cleo  secretly fantasizes she is her real birth mother, not the African-American-Filipino birth mother who gave Cleo  her name, baby clothes, and stuffed toy, Beary, but has avoided contact. It's different for Cleo's little brothers. Their birth mother visits regularly and brings presents, even for Cleo. Canceling the dreaded fifth-grade family-tree project (creating and displaying their family trees is tough for kids with complex or difficult histories), her teacher assigns passion projects, encouraging students to explore their interests in depth. Cleo's passion is business; her project, removing her classmates' loose baby teeth with a Nerf gun. (Adults and even some kids will wonder how her otherwise responsible parents and teacher give even limited permission for this.) Frazier offers a rare, clear-eyed view of adoption, understanding that even the best are founded on loss as well as love and that assimilating this bittersweet, difficult truth is a lifelong journey. A funny, compassionate tale." -Kirkus Reviews, November 1, 2015
Turn of the Tide by Rosanne Parry (Grades 4-7)
/* Starred Review */ "Two cousins from different countries are brought together by tragedy; burdened with past regrets, they become sailing partners in an attempt to win a boat race and redeem themselves. When a tsunami devastates his home in Japan, Kai, burdened with guilt after failing to save his grandparents, is sent to live in Oregon with his cousin Jet. Jet, who aspires to follow in her father's footsteps and become a ship's pilot, had ignored the tsunami warnings in her haste to go sailing and hit wreckage that damaged her boat. As she wrestles with her shame over her irresponsibility, Kai tries to acclimate to a different culture and struggles to master his fear of the water. With the boat race approaching, Kai and Jet will have to overcome their differences and regrets in order to work together to win. Both are well developed: their resilience against trying circumstances is sharply drawn, and Kai's introspection nicely balances Jet's impulsiveness. Even readers unfamiliar with the mechanics of sailing will find the race scenes exciting, and a sailing glossary provides extra information. The result is a touching, heartwarming story that reaffirms the idea that, for anyone, second chances are possible." Booklist, vol. 112, number 6, p56

ISBNs
9780062342331

9780374301309

9780385743556

9780545822350

9780375869723

Brilliant by Roddy Doyle (Grades 4-6)
"Saint Patrick may have rid Ireland of snakes, but it takes an army of children to chase off a citywide case of the blues. Expanded from a 2011 short story that Doyle (A Greyhound of a Girl) wrote for the organizers of Dublin's St. Patrick's Day parade, the novel borrows its dominant imagery from Winston Churchill's famous description of depression as a "black dog" on his back. When Raymond and Gloria Kelly hear their granny use the phrase to describe a widespread malaise brought on by high unemployment and a shaky economy, they sneak out in search of the mongrel, intent on retrieving the city's stolen funny bone. In pursuit, throngs of other children whose "da," uncle, or brother are also down in the dumps join the hunt. Some readers may find it disingenuous to suggest that the cure for depression is optimism, but Doyle fills the kids' adventure with fun—farting dogs, rats with attitude, and a variety of talking animals that get the best lines in the book." -Publishers Weekly, vol. 262, issue 23
The Longest Day by Erin Hunter (Grades 4-6) –The sixth book in the Seekers: Return to the Wild series, this book does not veer away from the very successful formula of the previous installments.
The Dragonsitter and The Dragonsitter Takes Off by Josh Lacey (Grades 2-4)
"Edward Smith-Pickle, "Eddie," finds himself in a pickle as he is taking care of his uncle's dragon while he is away. Unfortunately, his uncle didn't leave any instructions, and the dragon isn't exactly on his best behavior as he devours endless amounts of food, tears up the house, terrorizes the neighborhood pets, and sets the curtains and the mailman on fire. Eddie emails his uncle asking for help but doesn't get any replies. His mom is at her wit's end, and Eddie wonders what to do next. Finally, he gets some advice from his uncle, which turns things around. Told entirely through emails, this story provides plenty of funny moments, as Eddie manages to sound both upbeat and worried at the same time. This is the first of a planned four-book series, and its humorous tone and illustrations will appeal to young readers. VERDICT: A solid purchase for collections in need of short chapter books." -School Library Journal, vol. 61, issue 7, p71
The Dragon's Return by Stan Lee (Grades 3-4) -Second book in the Zodiac Legacy series, is good pick for fans of superhero stories.
The Trilogy of Two by Juman Malouf (Grades 5-8) -A book for fans of Philip Pullman's His Dark Materials

The Door by the Staircase by Katherine Marsh (Grades 4-6)
/* Starred Review */ "When readers meet orphan Mary Hayes, she's clawing her way up a chimney to escape from the Buffalo Asylum for Young Ladies. Miraculously, she succeeds—but only until a freak whirlwind causes the cruel headmistress to spot her out a window. After she's brought back in and confined to a closet, Mary fears that she's doomed—that is, until a mysterious woman named Madame Z appears the  next morning, wanting to adopt an orphan. Mary eagerly volunteers, and without much thought, Madame Z agrees. Mary's new home is called Iris, a town with a sideshow flair. She soon meets a magician's son named Jacob, a fast friend and ally. Before long, Mary realizes that amid all of the town's razzle-dazzle, there's also real magic. She's astounded to learn that Madame Z is a witch, complete with a talking cat. But Mary senses that something is off, and, indeed, the groundskeeper reveals that Madame Z is actually Baba Yaga, a powerful witch who eats children. Her fierce sense of self-preservation still intact, Mary immediately starts plotting her escape with Jacob. But as the adventure unfolds, it becomes clear that Baba Yaga may not be the enemy after all. Marsh has crafted a sparkling tale full of adventure, magic, and folklore. It's a delightful mash-up of stories and traditions; imagine Little Orphan Annie crossed with Russian folklore, plunked down in the spiritualist community of Lily Dale, NY, with a dash of Hayao Miyazaki's Spirited Away on top. VERDICT- Perhaps not a story for reluctant or struggling readers—it's relatively demanding in terms of length and vocabulary, but for those willing to tackle a rich and layered text, there's much here to enjoy." -School Library Journal, vol. 61, issue 12, p104
The After-Room by Maile Meloy (Grades 5-9) -The final book of the Apothecary series, this one ties up everything neatly.
Secrets of Valhalla by Jasmine Richards (Grades 4-7) -Two kids unexpectedly find themselves battling the Norse gods, this will appeal to kids who love Rick Riordan.
Woundabout by Lev AC Rosen (Grades 3-6)
"A cliff-top river town, subterranean tunnels, and gear work essentials figure in an intriguing steampunk fantasy. Connor and Cordelia King, ages 11 and 9, have been recently orphaned. Their parents, two men who raised bomb-sniffing capybaras on their ranch, were killed when a capybara training device exploded. Now the children and the only remaining capybara, Kip, have traveled to a small town to live with an aunt. The children quickly realize that Woundabout has a secret. It is curiously inert: there's no Internet, matches won't light, the river doesn't flow, the park is grimly barren, construction sites are vacant, and the mayor regards the arrival of children with deep suspicion and concern. Connor, with his love of things structural and architectural, notices the odd way the town fits together. Cordelia, who loves photography, observes much of the world through the lens of her camera. The town's name hints at its origin story, meshing gear work and the four classical elements (earth, air, water, and fire), as well as at a more solemn theme: everyone in Woundabout has been injured in some way; each is looking for healing. Loss, death, and sadness are each acknowledged as a powerful impetus to change. Moments of humor include Aunt Marigold's inability to remember Kip's species name ("snappy llama," "chatty ferret"), while abundant black-and-white illustrations add a friendly note. Appealing and pleasingly thoughtful." -Kirkus Reviews, March 15, 2015
City of Thirst by Carrie Ryan (Grades 4-7) -Second book in the Pirate Stream series.
The Cat Who Came in Off the Roof by Annie Schmidt (Grades 2-4)
"In this delightful fantasy, Tibble, a shy newspaper reporter, is about to lose his first job for submitting articles about cats —and nothing else. Then in from Tibble's roof leaps Minou, a charming ginger-haired young lady whose oddly "cattish" habits—purring, rubbing her head on the fish-seller's arm, and pouncing on mice—make sense when readers discover that, until recently, she was a cat. Through Minou's vast network of feline friends all over town, she is able to feed Tibble a steady stream of news tidbits that save his job and boost his position at the paper, until the cats uncover some scandalous facts about the head of the animal welfare association. Will Tibble lose his job for reporting the truth? Will Minou ever turn back into a cat? The book will have young readers suspending disbelief and flipping pages to get to the end. Finely translated by Colmer, this Dutch import is considered something of a children's classic in Holland, and it's easy to see why." -Booklist, vol. 112, number 8, p51
Ever After High: Fairy's Got Talent by Suzanne Selfors (Grades 3-5)
Broken Ground by Victoria Schwab (4-6) -Second book in the Spirit Animals: Fall of the Beasts series.
Bounders by Monica Tesler (Grades 5-8)
"Several years ago, Earth Force, the combined space and military agencies of Earth, created the Bounder Baby Breeding Program after discovering that kids with a certain brain structure are perfect for space travel. Now Jasper and his fellow Bounders are off to the EarthBound Academy for their first space mission and to begin their aeronaut training. After Jasper and his fellow pod mates start to explore the academy and see a strange alien, they learn that there is more to the Bounder Program than they imagined. During lessons on how to bound (transport) through space and fly with blast packs, Jasper and his friends work to uncover their true mission. The world building is lacking at times, and the plot lags between the action, but Jasper and his pod mates are likable, and the EarthBound Academy is essentially middle school in space. The suspense builds at the end, and unanswered questions will leave readers eager for more. A sci-fi space adventure sure to please middle-graders looking to get hooked on a new series." -Booklist, vol. 112, number 8, p51
ISBNs
9781419714795

9780061996498

9780316298964

9780316299039

9781484713525

9780399171147

9781423134992

9780399175442

9780062010094

9780316370783

9780316240840

9780553535037

9780316401432

9780545854429

9781481445931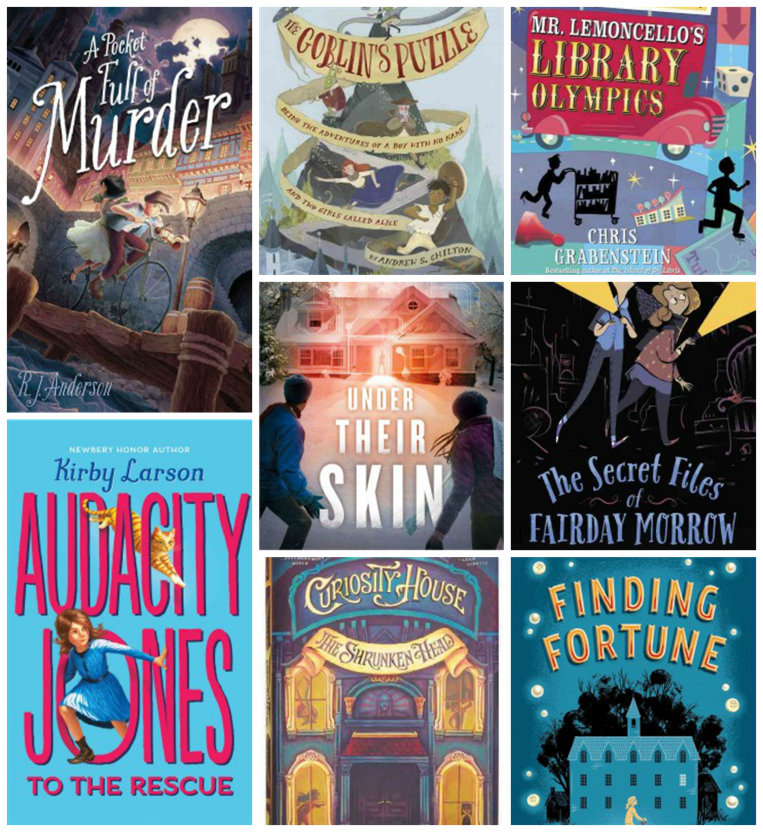 A Pocket Full of Murder by R.J. Anderson (Grades 5-8)
/* Starred Review */ "Isaveth, 12, lives in the magical city of Tarreton, where her motherless family, members of a religious minority, barely get by. Then her father is arrested for the murder of an important official and things get much worse. Isaveth, sure of her father's innocence, is determined to prove it, but though she can make simple charms, her resources are minimal. Unexpectedly, she is befriended by Quiz, an eye-patch-wearing street boy who volunteers to help her find the real killer and the motives behind the setup. From the dynamic cover (though the kids look a bit younger than they're written) to the twisty ending, this has fullness and depth unusual in middle-grade mysteries. Woven into the narrative are issues of workers' rights, religious discrimination, and the role of government in citizens' lives. Anderson still leaves plenty of room for magic, adventure, and the development of her two strong, young main characters, who match each other in both wits and sensitivity. Most of the characters, in fact, display more depth than readers might expect, ensuring kids will have something to think about when the book is finished. But wait! On the last pages, there's a small hint of a sequel. They'll think about that, too." -Booklist, vol. 111, number 21, p76
The Goblin's Puzzle by Andrew Chilton (Grades 4-8)
"The princess is kidnapped, a kingdom imperiled, and the fate of West Stanhope's throne rests on a trickster goblin's riddles and a boy without a name. In his debut novel, Chilton crafts a sharp and engaging fantasy world that, in the vein of William Steig's Shrek! (1990), satirizes conventional fairy-tale themes while employing them to pen an original story. Set in a medieval era of knights and ladies, the story presents the standard fantasy tropes: the young hero of humble origins, the feisty princess and clever peasant girl (both are named Alice), dragons, goblins, ogres, hapless royalty, and a dastardly villain angling for the throne. A deft weaving of feudal and contemporary sensibilities (nobles own slaves, but the Earth's circuit of the sun is common knowledge) distinguishes these characters from the herd. Part of the joy of this novel lies in watching the different character arcs interlock, like pieces to a jigsaw puzzle. While the boy is the "official" hero sent on the quest, Princess Alice and Plain Alice (who's not so plain) are neither helpless maidens awaiting rescue, nor insignificant supporting characters. In fact, their shrewd observations drive the novel's central premise that "not knowing means exploring and discovering." An emphasis on questioning fate, societal rules, and traditions as well as the importance of wit and logic rather than brawn renders this lighthearted adventure fresh." -Kirkus Reviews, October 15, 2015
Mr. Lemoncello's Library Olympics by Chris Grabenstein (Grades 4-7) -Sequel to Mr. Lemoncello's Library

Under Their Skin by Margaret Peterson Haddix (Grades 4-7)
"In this unpredictable thriller, 12-year-old twins investigate their new stepsiblings, only to discover that their entire world may be based on lies. Nick and Eryn are shocked to learn that their new stepfather has children (ones that neither he nor their own mother have ever mentioned), and they are downright baffled at their parents' insistence that the two sets of siblings never meet. Nick and Eryn take up the challenge to find out just what's going on, but the truth leads to bizarre revelations with far-reaching ramifications. Haddix starts off conventionally, presenting the twins' situation as a family drama with elements of mystery, before gradually peeling away the layers to show a deeper, disturbing story that explores what it means to be human. Nick and Eryn are appealing, believable protagonists, though the supporting characters (particularly stepsiblings Ava and Jackson) aren't as fleshed out. Haddix's world building is solid, though, and her premise intriguing, raising many more questions than it answers while leaving the story open for further exploration." -Publishers Weekly, vol. 262, issue 41
The Secret Files of Fairday Morrow by Jessica Haight (Grades 4-6) –First book in the promising series, Detective Mystery Squad (#squadgoals)
Audacity Jones to the Rescue by Kirby Larson (Grades 4-6)
/* Starred Review */ "It's 1910, and Audacity Jones is living in a struggling home for "wayward girls" in Swayzee, Ind., when a frequent donor, Commodore Crutchfield, arrives asking for a volunteer for a secret mission. Sharp-witted and well-read, Audie has her doubts about a man "who seemed to have no idea that mainsails were never lashed together with ropes" and "that the rank of Commodore had last been used by the United States Navy eleven years prior," but she also has a taste for adventure. Before they leave, her favorite chocolate-striped cat, Miniver, slips into the Commodore's car and becomes an integral part of this delightful historical mystery from Larson (Dash). Audie winds up in the nation's capital where she makes several friends, including newsboy Juice and his grandfather, who works in the White House stable. Larson's entertaining narration shifts attention among multiple characters amid the unfolding mystery of what, exactly, the Commodore is planning. First in a series, Larson's thriller deftly mixes humor, heart-pounding moments, and a strongly evoked historical setting—it's truly a story with something for everyone." -Publishers Weekly, vol. 262, issue 40
The Curiosity House: The Shrunken Head by Lauren Oliver (Grades 4-7)
/* Starred Review */ "In 1930s New York City, murder and mayhem obsess the children who reside—and are performers—at Dumfrey's Dime Museum of Freaks, Oddities, and Wonders. Orphans Pippa (the mentalist), Sam (the overly strong boy), Thomas (the contortionist), and Max (the knife-throwing "sharpshooter") get some firsthand experience with chaos when Mr. Dumfrey purchases a cursed shrunken head for the museum. When a smarmy reporter from the Daily Screamer starts writing sensational articles about the shrunken head and the children, the four decide to unravel the mystery behind the curse. Pooling their talents, they track down clues, suspects, and murder weapons while avoiding capture by the head of the local children's home. With a dollop of Lemony Snicket's hyperbole, a blob of J. K. Rowling's take on journalism, and a splotch of sideshow allure, Oliver (The Spindlers, 2012) and Chester have crafted a wildly imaginative, over-the-top tale in this series starter, complete with a bearded lady, a dwarf, a fat lady, a magician, and an alligator boy. The continuous action, compelling mystery, and dark, brooding illustrations make this book impossible to put down. Perfect for kids who feel they're different or those simply after a freakishly good time." -Booklist, vol. 111, number 21, p68
Finding Fortune by Delia Ray (Grades 4-6)
"Like the small town of Fortune, Iowa, once the "Pearl Capital of the World," Ren feels that her little family is slowly breaking apart. With her father fighting in Afghanistan, Ren's mother is moving on with her life and is dating a "creep" named Rick Littleton. Ren has had enough and decides to run away. The 12-year-old makes her way to the neighboring town, where she discovers an old school that's been turned into a boardinghouse-and a mystery. The owner, Ms. Baxter is convinced that a treasure-a bag of pearls-is hidden somewhere in the house. With her new friend Hugh, Ren sets out to help Ms. Baxter find the long lost treasure. Ren is a good kid with a kind heart. Ray's characters are realistic and relatable. VERDICT- A heartwarming story about forgiveness, acceptance, and friendship." -School Library Journal, vol. 61, issue 7, p82
ISBNs
9781481437714

9780553520705

9780553510409

9781481417587

9780375991820

9780545840569

9780062270818

9780374300654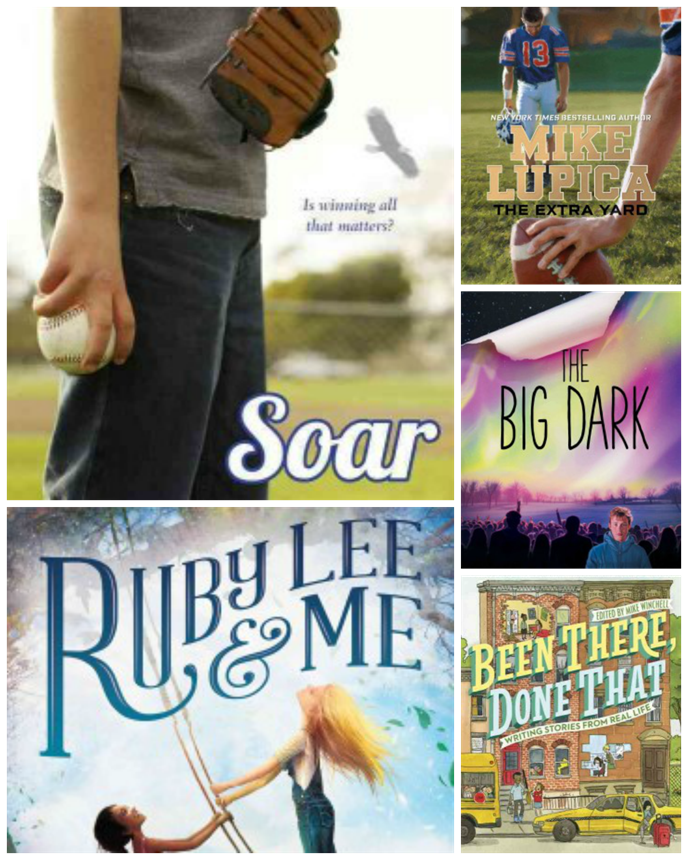 Soar
by Joan Bauer (Grades 5-8) –New title by perennial favorite, Joan Bauer.
Ruby Lee and Me by Shannon Hitchcock (Grades 3-6)
"It is the summer of 1969, and things couldn't seem worse to 12-year-old Sarah. Her six-year-old sister, Robin, has been seriously injured in a car accident that Sarah is certain was her fault (she had been reading while babysitting Robin), and Sarah called her best friend, Ruby Lee, the worst thing you can call a black person. Sarah's inner struggles take place against the background of integration in a rural North Carolina community; Hitchcock (The Ballad of Jessie Pearl) depicts her guilt, anger, and grief with credibility and the important people in her life in sympathetic, fully dimensional fashion. The contrast between Ruby Lee and Sarah's friendship and that of the girls' grandmothers effectively reflects the differences in their generations' approach to race relations; the uneasiness created by the arrival of the elementary school's first black teacher, Mrs. Smyre, is also treated realistically. While Mrs. Smyre is a little too good to be true, an endnote explains the roots of the book are in the author's connection to just such a teacher." -Publishers Weekly, vol. 262, issue 51
The Extra Yard by Mike Lupica (Grades 3-6) –Great book for reluctant readers who enjoy sports.
The Big Dark by W.R. Philbrick (Grades 5-7)
"When a solar flare knocks out all technology, residents of an isolated New Hampshire town must figure out how to survive. Unless neighbors share their precious resources, many will not make it through the brutal winter. Unfortunately a violent faction of racists has other plans. Determined to take control of the town, they burn down the local supermarket, robbing the residents of food and medication. Charlie Cobb's mother, a Type 2 diabetic, will not survive without her medication. To save her, Charlie must risk exposure, wild animals, and desperate people to ski the 50 miles to the closest hospital. The science behind the apocalyptic event is suspiciously vague, but the realistic portrayal of the human capacity for both good and evil is well-written: some resort to hoarding and violence in the face of the global catastrophe, but others choose an enlightened path and elect to care for one another. A slow beginning pays off during Charlie's desperate journey, and the depiction of a world gone suddenly dark is both terrifying and completely possible. Philbrick's overarching message is clear. While ruthless villains might be living next door, so might a school janitor-turned-selfless leader and a boy-turned-hero. Readers who get past the sketchy science will find a riveting, credible, and even inspiring vision of life just after the apocalypse." -Kirkus Reviews, October 1, 2015
Been There, Done That: Writing Stories from Life edited by Mike Winchell (Grades 4-7) -Collection of short stories written by popular writers for kids.
ISBNs
9780451470348

9780545782302

9780374374303

9781481410007

9780545789752

9781481419420

9780448486727
The Trouble in Me by Jack Gantos (Grades 7-10) -From acclaimed author, Jack Gantos, this semi-autobiographical novel will appeal to advanced readers and those who look wry humor.
Some Kind of Courage by Dan Gemeinhart (Grades 5-8)
"Gemeinhart (The Honest Truth) delivers another emotional page-turner in this gripping historical novel about 12-year-old orphan Joseph Johnson. It's 1890 in Washington State, and Joseph's beloved horse, Sarah, has been sold by the unscrupulous alcoholic who took him in after his father's death. Boy and horse have been bound together since Joseph was four, and with an unshakable moral compass instilled in him by his parents, he sets off on the horse trader's tail, soon joining up with a Chinese boy, Ah-Kee, who has a mysterious goal of his own. While the boys cannot communicate with words, their bond grows as they struggle against relentless disasters and crises, encounter virtuous and dubious characters, and perform some good deeds. Gemeinhart gives Joseph a voice authentic to the period and his upbringing ("And it weren't just the cold making 'em shake, neither"), which initially takes some getting used to. While the heartrending ending is a little too good to be true, it's well-earned by Joseph and will satisfy readers accompanying him on his unforgiving journey." -Publishers Weekly, vol. 262, issue 44
Terror at Bottle Creek by Watt Key (Grades 5-8) –A post-Hurricane Katrina type survival book, good for fans of Hatchet.

The Tin Snail by Cameron McAllister (Grades 5-8)
"When Angelo accidentally crashes his father's brand-new prototype at the  Paris auto show, he's consumed with guilt and determined to help his beleaguered pop come up with an even better car design, not only to save his career but his floundering marriage to Angelo's mother. While vacationing in a small village near Paris, Angelo and his father, after a few fits and starts, come up with a brilliant idea for a French "people's car" economical enough for a rural French family to afford and sturdy enough to transport a tray of eggs over a rutted field unharmed. But just as they complete their design, Nazis invade France, and they must find a way to keep their revolutionary design out of the hands of the enemy. Loosely based on the true story of the Citroën 2CV, McAllister's debut offers an unusual look at a much-studied historical period, and though it suffers from some uneven pacing and too broad a focus, middle-grade readers entranced by autos will find plenty to like. Black-and-white chapter-heading illustrations are a charming addition." -Booklist, vol. 112, number 8, p56
When Mischief Came to Town by Katrina Nannestad (Grades 3-5)
/* Starred Review */ "Irrepressible Inge Maria has been sent to live with her grandmother on the island of Bornholm, Denmark, after her mother's death. It's easy to see the influence of Anne of Green Gables, although this effort is aimed at a younger audience than the classic is. Good-hearted Inge gets into plenty of unintentional (and some deliberate, mischievous) trouble. Through her impetuosity, she gradually alters the drab lives of the adults surrounding her. Humor infuses the story. Traveling by fishing boat to the island, 10-year-old Inge is wedged between a hungry goat and angry, caged geese. After she dozes off, the goat eats one of her braids. Her stern, seemingly unfriendly grandmother knits her a hat to conceal the damage. Under Inge's influence, a warm ebullience gradually emerges in the older woman. Deliciously evocative language peppers the tale: describing an especially humorless neighbor, Inge says, "Her piercing stare slips down her long nose, lands on my head, then slides all the way to my toes." Australian author Nannestad artfully uses Hans Christian Andersen tales to illuminate Inge's painful grief over both the death of her mother and the loss of her familiar, past life. The 1911 era and the distinctive island setting are fully realized; even her grandmother's farm animals blithely play a role. This heartwarming and richly engaging tale explores grief and the sustaining support of humor with an abundance of love." -Kirkus Reviews, October 1, 2015
Wolf Wilder by Katherine Rundell (Grades 4-7)
/* Starred Review */ "In the snowy wilderness of Russia, a stormy girl and her mother live in a cabin with only wolves  for company, which is exactly how they like it. The two are wolf wilders, who retrain wolves to survive in nature when they fall out of favor with the Russian nobility who kept them as pets. It is a joyous existence for Feo, until insane, violent General Rakov decrees the wild wolves a nuisance and arrests Feo's mother, burning their home in the process. Feo manages to escape into the night, but knows Rakov will be following close behind. With a newborn pup snuggled to her chest, her wolf pack best friends, and a soldier boy defector, Feo strikes out toward St. Petersburg to rescue her mother. Rundell (Cartwheeling in Thunderstorms, 2014) never fails to work magic with language and deft storytelling. Feo's world of wolves and snow, danger and triumphant bravery rings with the classic allure of folktales. Her spirited, half-wild nature shines brightly on the page, even as her vulnerabilities endear her to readers' hearts. It is a wonderful thing to see Feo's quest inspire a nation to stand up and fight, and readers will cheer her on every step of the way." -Booklist, vol. 112, number 2, p67
ISBNs
9780374379957

9780545665773

9780553536409

9780544534322
Tags:
2016 Middle Grade Fiction
,
Collection Development
,
Elementary Book Lists
,
News
,
Nikki Gregerson