Kelli is currently the media clerk at Taylorsville Elementary, before which she worked as a media clerk at Vista Elementary. Kelli is a passionate fan of children's literature and is always looking for books that will get kids excited about reading.
What books are currently on your nightstand?


Sophie Quire and the Last Storyguard by Jonathan Auxier, Ben Hur: A Tale of the Christ by Lew Wallace, And Then There Were None by Agatha Christie, and three Star Darlings books by Shana Muldoon Zappa.
What was the last great book you read?

Book Scavenger by Jennifer Chambliss Bertman
The last book that made you cry?

The Dogs of Winter by Bobbie Pyron
The last book that made you laugh?

The Far Side by Gary Larson
What kind of reader were you as a child? What childhood books and authors stick with you the most?

I loved Hardy Boys and Nancy Drew mysteries and anything from Beverly Cleary and Betsy Byars.
What is the best book you were required to read as a student?

Charlie and the Chocolate Factory by Roald Dahl
What book did you hate reading as a student?

The Adventures of Huckleberry Finn by Mark Twain
What is your favorite book to recommend to children?

Where the Red Fern Grows by Wilson Rawls
If you could only bring three books to a desert island, which would you pack?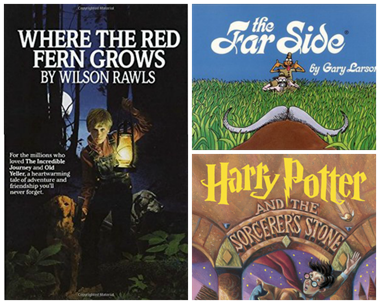 Where the Red Fern Grows by Wilson Rawls, Far Side by Gary Larson, and Harry Potter and the Sorcerer's Stone by J.K. Rowling.
Tags:
Book Recommendations
,
By the Book
,
Kelli Handy