Keith started his teaching career in Chicago teaching HS Biology. He moved to the west to be close to the mountains. He taught science for 10 years at Westlake JH, 2 years at Churchill JH, 3 years at Valley JH. He then spent 2 years as an elementary STS and has been the Library Media Educational Technology Specialist at Olympus HS for the last 7 years.
Keith is hard working, creative and has a great rapport with both teachers and students. The many changing displays and book promotions make his library inviting.
What books are currently on your nightstand?
The Bad-Ass Librarians of Timbuktu by Josua Hammer and The Fever Code by James Dashner.
What are you reading for book club?
Cruel Beauty by Rosamund Hodge
What was the last great book you read?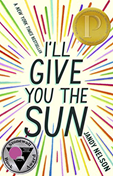 I'll Give You the Sun by Jandy Nelson
The last book that made you cry?
The John Green book about the cancer kids…
The last book that made you laugh?
The John Green book about the cancer kids…
What kind of reader were you as a child? What childhood books and authors stick with you the most?
Horrible. Which is why I am so good now. I have a lot of catching up to do. Robert Ludlum and Bourne Series are quite memorable now that the movies are out. YA was not a thing back in my day and we read our parents' books! Now many parents are reading their kids' YA books!
What is the best book you were required to read as a student?
No comment.
What book did you hate reading as a student?
Poetry. I remember an English teacher once asked what I thought of a poem. I responded and she said I was wrong. I mentally left the class after that. Not a good experience the way I remember it.
What is your favorite book to recommend to students?
I have a lot but it all depends on the student and what they are interested in. I see what the kid is wearing and what the last movie they watched is before I start recommending books. Fahrenheit 451 is one of my all-time favorites. But if you like weird and funny Going Bovine (by Libbra Bray) is great too. Want to learn something about dead bodies, read Stiff (by Mary Roach). Less mature or slower readers? Al Capone Does My Shirts or almost anything by Carl Hiaassen. Are you the outdoorsy type-can you handle Between a Rock and a Hard Place? You know, the guy who cut his arm off in Southern Utah. True story, and the book behind 127 hours. There can't be just one book. I have over 1,500 students to help find a book for.
If you could only bring three books to a desert island, which would you pack?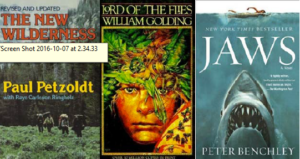 The Wilderness Handbook, Lord of the Flies, and Jaws. Just kidding of course. If I knew I was headed toward a deserted island I would make other plans!
What are some of your favorite library promotions that you have done?
Banned Books are always a favorite. Such a wide variety of books and reasons. Students and teachers really thing ther is such a thing as a banned book. It's fun to explain to them that they live in a free country and that they can read whatever they would like! Don't get me wrong there are plenty of inappropriate books for ages or maturity levels. This is great opportunity to teach the importance and power of books."
Books to Movies are great too. Many students don't realize that most movies are based on a book, or that movies have to be written first.
What do you like most about your job?
The variety and changes. Especially since we work with technology the changes and updates never end. And of course the students—I get to work with kids in a positive, fun, meaningful, and lasting way!
Tags:
Book Recommendations
,
By the Book
,
Keith Smedberg
,
Secondary Library Spotlights