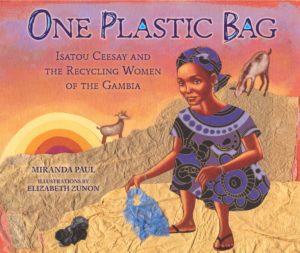 Isatou Ceesay and the Recycling Women of the Gambia
Written by Miranda Paul, Illustrated by Elizabeth Zunon

Isatou Ceesay, a young Gambian woman, finds a creative and useful way to use the plastic bags that had been accumulating by the hundreds all around her home in Njau. Not only does she recycle and crochet the bags into purses, but she teaches other women in her town how to do the same. In the process, she helps to cut down the spread of disease from the trash and saves the lives of goats that had been swallowing the bags. Isatou transforms her home to a cleaner and healthier place to live. I am thoroughly in awe of this woman and her resourcefulness and creativity. This one act of recycling blossomed to empower a community (and all those who read this book.) I was inspired by this book and I think it could be used to teach that there is something all of us can do to take care of our Earth. I also loved the photographs, especially the one showing Isatou in 2014. She looks so happy. An amazing, inspiring story, with beautiful color illustrations, One Plastic Bag is a powerful true story.
Review by Renee Larsen, Hillside Elementary Media Center
Rating: ★★★★★ (5 stars)
Interest Level: Grades K-3 or anyone who wished to be inspired
One person can make a difference and one plastic bag can change a village. In this book we are introduced to Isatou Ceesay who, after seeing trash pile up and plastic bags being burned, got an idea to create something from the trash. I like this book because it shows how one person can make a difference in her community. Isatou was able to make an ordinary plastic bag become a resource that helped build a brighter future for her family and her community. I like that the artist used actual plastic bag pieces in her pictures. I enjoyed seeing the different items she used to add texture to her artwork. This story truly shows that we can turn trash into art.
Review by Marlene Roundy, Jim Bridger Elementary Media Center
Rating: ★★★★✩ (4 stars)
Interest Level: 2nd to 4th Grades
One Plastic Bag is a very interesting book. I loved reading about Isatou Ceesay and her courage. She had an idea and she followed through with it. It made a huge difference in her community. One person's actions really can make a difference in our world.
Review by Jodie Uriarte, Copper Hills Elementary Media Center
Rating: ★★★★✩ (4 stars)
Interest Level: 3rd – 6th Grades
One Plastic Bag: Isatou Ceesay and the Recycling Woemn of the Gambia
Written by Miranda Paul, Illustrated by Elizabeth Zunon
Millbrook Press
34 pages
Release Date: February 1, 2015
Tags:
2015 Children's Nonfiction
,
Art
,
Biography
,
Biography Picture Books
,
Elizabeth Zunon
,
Isatou Ceesay
,
Jodie Uriarte
,
Marlene Roundy
,
Miranda Paul
,
Plastic bag craft
,
Pollution
,
Recycling
,
Renee Larsen
,
The Gambia
,
West Africa
,
Wolof