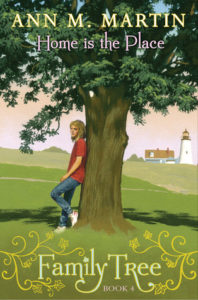 Family Tree, #4
Written by Ann M. Martin
Home Is the Place takes you through Georgia's life, but not only her life but the lives of women four generations back. Her mother, her grandmother, her great grandmother and through journals that Georgia found she learned of the life of her great, great grandmother. I like the emotions that the the author portrayed as we learned of each woman and the struggles that each had to live with.
Review by Jodie Uriarte, Copper Hills Elementary Media Center
Rating: ★★★★✩ (4 stars)
Interest Level: 4th Grade and Up
Family Tree, #4
Home Is the Place
Written by Ann M. Martin
Scholastic Press
215 pages
Release Date: December 30, 2014
A review copy was provided by the publisher.
Tags:
Ann M. Martin
,
Family Fiction
,
Family Sagas Fiction
,
Family Tree
,
Generations Fiction
,
Home Is the Place
,
Jodie Uriarte
,
Realistic Fiction
,
Secrets Fiction