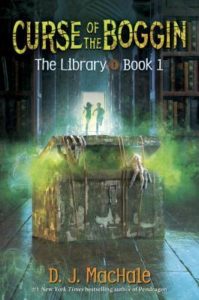 The Library, #1
Written by D. J. MacHale
This is definitely one of the best books I have read. I'm wishing book two comes out soon. My personal favorite part was the book shelf fell and no one knew it was the Boggin. That left me in shock. This book made me want to sit and read and not do anything else.
Review by Jade, 5th Grade / Angela Pratt, Hillsdale Elementary Media Center
Rating: ★★★★½ (4.5 stars)
Interest Level: Grades 3-6
The Library, #1
Curse of the Boggin
Written by D. J. MacHale
Random House
242 pages
Release Date: September 6, 2016
A review copy was provided by the publisher.
Tags:
Blessing and Cursing Fiction
,
Curse of the Boggin
,
D. J. MacHale
,
Horror Fiction
,
Libraries Fiction
,
Mystery Fiction
,
Paranormal Fiction
,
The Library