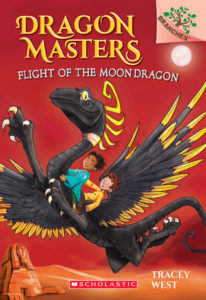 Dragon Masters, #6
Written by Tracey West, Illustrated by Damien Jones
This is a very fun story about dragons and their master saving their country. It has good suspense for young readers. It teaches about team work and how they can only do it if they work together.
Review by Shawna Lockwood, Western Hills Elementary Media Center
Rating: ★★★★½ (4.5 stars)
Interest Level: Grades 1-3
Dragon Masters, #6
Flight of the Moon Dragon
Written by Tracey West, Illustrated by Damien Jones
Branches/Scholastic Inc.
90 pages
Release Date: September 27, 2016
A review copy was provided by the publisher.
Tags:
2016 Early Chapter Books
,
Adventure Fiction
,
Dragon Masters
,
Dragons Fiction
,
Fantasy Fiction
,
Flight of the Moon Dragon
,
Magic Fiction
,
Quests Fiction
,
Shawna Lockwood
,
Teamwork Fiction
,
Tracey West
,
Wizards Fiction