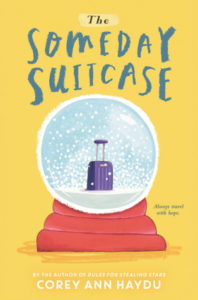 Read this book in Granite's OverDrive Digital Library
Written by Cory Ann Haydu
This is a wonderful book about two young children, Danny and Clover. They've known each other since birth, as their parents are good friends, and they consider themselves best friends. When Danny gets a mysterious illness, it seems the only thing that makes him feel better is being close to Clover. It details the struggle of each child and speaks of friendship and love. I highly recommend this book.
Review by Robin Hassard, Howard R. Driggs Elementary Media Center
Rating: ★★★★★ (5 stars)
Interest Level: Grades 4-8
The Someday Suitcase
Written by Cory Ann Haydu
Katherine Tegen Books, an imprint of HarperCollinsPublishers
297 pages
Release Date: June 27, 2017
A review copy was provided by the publisher.
Tags:
2017 Children's Fiction
,
Contemporary Fiction
,
Cory Ann Haydu
,
Friendship Fiction
,
Health Fiction
,
Illness Fiction
,
Realistic Fiction
,
Robin Hassard
,
The Someday Suitcase