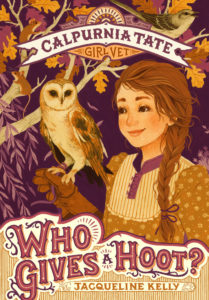 Calpurnia Tate, Girl Vet, #3
Written by Jacqueline Kelly, Illustrated by Jennifer L. Meyer
Once again Calpurnia comes to the rescue. She rescues an owl that literally falls from the sky. She has to figure out why the owl is sick, and after some investigation work, she does. The book is very descriptive and easy to read. The author not only tells an amazing story but also uses words that really describe as well as explain so that the children who read this book are are also learning about the science of the story. I love these books and I can't wait for her next one.
Review by Kathy Lloyd, Western Hills Elementary
Rating: ★★★★★ (5 stars)
Interest Level: Grades 3-4
Calpurnia Tate, Girl Vet
Written by Jacqueline Kelly, Illustrated by Jennifer L. Meyer
Henry Holt and Company
105 pages
Release Date: October 3, 2017
A review copy was provided by the publisher.
Tags:
2017 Chapter Books
,
Animals Fiction
,
Calpurnia Tate - Girl Vet
,
Family Life Fiction
,
Historical Fiction
,
Jacqueline Kelly
,
Jennifer L. Meyer
,
Kathy Lloyd
,
Naturalists Fiction
,
Nature Fiction
,
Owls Fiction
,
Texas Fiction
,
Veterinarians Fiction