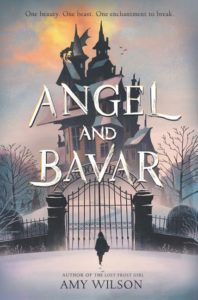 Written by Amy Wilson
This book is about Bavar, a boy with magic in his blood. He fights monsters called Raksasas, men with bat wings. He meets a girl named Angel. Together they work to close the portal rift that lets the Raksasas into earth. Both of them are somehow connected through these monsters. I thought this was a really great book. I liked it because of the friendship, the fright, and the feelings they expressed. I also liked the book because of the magic and monsters. I would recommend this to others who enjoy magic and fantasy.
Reviewed by Lariah Saunders, Student, Fox Hills Elementary
Rating: ★★★★★ (5 stars)
Interest Level: Grades 4-8
Angel and Bavar
Written by Amy Wilson
Katherine Tegen
320 pages
Release Date: November 6, 2018
ISBN: 9780062671516
A review copy was provided by the publisher.
Tags:
2018 Children's Fiction
,
Amy Wilson
,
Fantasy Fiction
,
Friendship Fiction
,
Good and Evil Fiction
,
Lariah Saunders
,
Magic Fiction
,
Monsters Fiction
,
Paranormal Fiction
,
Student Reviews