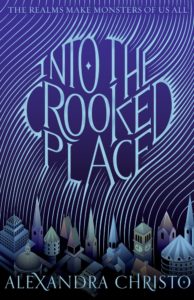 Written by Alexandra Christo
Tavia sells magic in secret under a complex system of crime bosses. Her only dream is to make enough to un-indenture herself. The bosses convince her to sell a vial of new dark magic. The results are disastrous and injure one of her closest friends. The sequence of events brings together an unlikely group: a warrior, a resistance fighter, and even a crime boss. Who can they trust and what have they gotten themselves into? The four perspectives are well marked but could be confusing for some readers. The four narratives do tie together well to tell the entire story. Readers who do become engrossed in the story will be left wanting the sequel.
Reviewed by Jessica Moody, Library Media Technology Specialist, Olympus Jr. High
Rating: ★★★½✩ (3.5 stars)
Interest Level: Grades 8-12
Author Website: https://alexandrachristo.com/
Into The Crooked Place
Written by Alexandra Christo
Feiwel and Friends
375 pages
Release Date: October 8, 2019
ISBN: 9781250318374
A review copy was provided by the publisher.
Tags:
2019 YA Fiction
,
Alexandra Christo
,
Dark Fantasy Fiction
,
Fantasy Fiction
,
Heists Fiction
,
Jessica Moody
,
Magic Fiction
,
Thieves Fiction