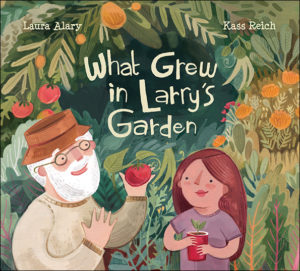 Written by Laura Alary, Illustrated by Kass Reich
Grace lives in your average neighborhood. All the houses are close together and everyone has a small yard. However, her neighbor Larry is different; he turned his entire backyard into a garden. Grace helps him tend to the plants and together they solve problems on how to get rid of pests. One day Grace is helping Larry plant tomato seeds in hundreds of plastic cups. Grace wonders why he needs so many tomato plants and you will have to read the book to find out why.
This book is inspired by a Larry Zacharko, an average individual. He is a teacher who used his hobby to help his students focus in class. He saw the potential for his students to become good citizens of the community by challenging them to give a gift to someone in their neighborhood with a note explaining why they received the gift. This is an endearing story about the importance of building a community and it takes everyone's help to make it thrive.
Reviewed by LeeAnne Grover, Media Clerk, Hillside Elementary
Rating: ★★★★½ (4.5 stars)
Interest Level: Grades 1-3
What Grew in Larry's Garden
Written by Laura Alary, Illustrated by Kass Reich
Kids Can Press
32 pages
Release Date: April 7, 2020
ISBN: 152530108X
A review copy was provided by the publisher.
Tags:
2020 Picture Books
,
City Picture Books
,
Community Picture Books
,
Friendship Picture Books
,
Gardening Picture Books
,
Gardens Picture Books
,
Kass Reich
,
Laura Alary
,
LeeAnne Grover
,
Neighbors Picture Books
,
Problem Solving Picture Books