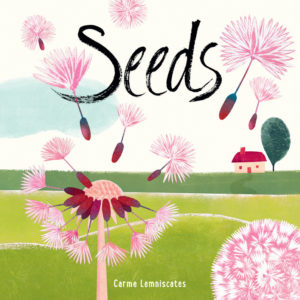 Written and Illustrated by Carme Lemniscates
This started as an informative book about plant and flower seeds. About how they are carried by the wind or by insects or birds. About how they reproduce and grow.
Then the book switches focus. It turns to how seeds of anger grow anger, kindness grows kindness, etc. About how you sow the seeds of the emotions you carry. It was an unexpected twist.
Overall it wasn't what was expected but I do believe it is an interesting book for younger readers that may help them realize they have a responsibility to plant seeds in the earth and themselves that will grow to make everything and everyone around us more beautiful.
Reviewed by Terrie Bishop, Media Clerk, Academy Park Elementary
Rating: ★★★✩✩ (3 stars)
Interest Level: Grades K-2
Book Webpage: https://www.lemniscates.com/SEEDS-Candle1.html
Seeds
Written and Illustrated by Carme Lemniscates
Candlewick Studio, an imprint of Candlewick Press
36 pages
Release Date: March 17, 2020
ISBN: 9781536208443
A review copy was provided by the publisher.
Tags:
2020 Children's Nonfiction
,
2020 Picture Books
,
Carme Lemniscates
,
Flowers
,
Flowers Picture Books
,
plants
,
Plants Picture Books
,
Seeds
,
Seeds Picture Books
,
Terrie Bishop