Written and Illustrated by Sarah Kurpiel
Pineapple has always been the only cat. But when a sleeker, nimble cat named Kiwi comes home, Pineapple is annoyed. Kiwi copies everything Pineapple does! He can't go anywhere without Kiwi following him. Until one day, Pineapple has had enough and scares Kiwi out of sight. Now he can get back to his comfortable life. Except…..the house is very quiet -too quiet- and Pineapple finds himself looking for Kiwi. In fact, when he does find Kiwi, it looks like Pineapple is the one following Kiwi around the house! So its hard to tell, who is the copy cat now? This is a light-hearted book about friendship, change and trying new things, with a fun play on words in the title.
Reviewed by Andrea LeBaron, Media Clerk, Upland Terrace Elementary
Review shared in October 2021
Rating: ★★★★½ (4.5 stars)
Interest Level: Grades K-5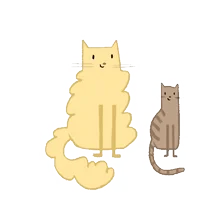 Book Page (with a printable coloring book and GIFs): https://sarahkurpiel.com/original-cat-copy-cat
Original Cat, Copy Cat
Written and Illustrated by Sarah Kurpiel
Greenwillow Books
40 pages
Release Date: August 3, 2021
ISBN: 9780062943835
A review copy was provided by the publisher.
Tags:
2021 Picture Books
,
Andrea LeBaron
,
Cats Picture Books
,
Friendship Picture Books
,
Loneliness Picture Books
,
Pets Picture Books
,
Sarah Kurpiel