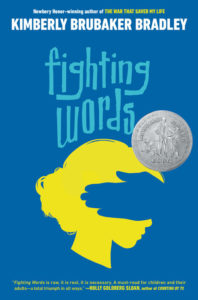 Written by Kimberly Brubaker Bradley
Della is a spunky 10-year-old with a mountain of problems to overcome in her young life. With her mother in prison, Della and her protective older sister, Suki, end up in foster care. With her potty mouth and tough demeanor, Della is often in trouble at school and has few friends. But, through all the hard times she has always had her big sister to lean on for everything. Until, one day Suki has a crisis of her own and Della's world turns upside down in ways she could never have imagined. And when Suki's terrible secrets begin to explode in all their terrifying details, Della realizes that she and Suki have a long journey of healing and recovery ahead of them.
This book deals with the all too common (and often silent) problem of child sexual abuse in our society today. Told with compassion, insight, and even humor, Delta and Suki's story is one of courage, strength, love and, ultimately, of children finding their voices in a world that often seems determined to keep them silent.
This is definitely an award winning book and deserves to have a wide audience of readers. However, because of the delicate nature of the subject matter I would only recommend this for 6th grade and up.
Reviewed by Lynda H. Wilson, Media Clerk, David Gourley Elementary School
Review shared in August 2021
Rating: ★★★★★ (5 stars)
Interest Level: Grades 6th and Up
Fighting Words
Written by Kimberly Brubaker Bradley
Dial Books for Young Readers
259 pages
Release Date: August 11, 2020
ISBN: 9781984815705 (paperback) / 9781984815682 (hardcover)
Tags:
2020 Middle Grade Fiction
,
Foster Care Fiction
,
Kimberly Brubaker Bradley
,
Lynda H. Wilson
,
Realistic Fiction
,
Sexual Abuse Fiction
,
Sisters Fiction
,
Social Issues Fiction