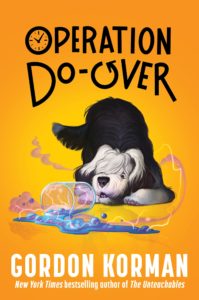 Written by Gordon Korman
I think that we all wish at some point in our life that we could go back do things differently, to have a second chance. That's just what Mason gets to do. He tries to make things right with his friends, family, and even his pet dog. Mason and his best friend are really into time travel. They can talk about it for hours. Mason actually gets to experience it. He doesn't totally understand what's happening to him or why. He just takes each moment as it comes and tries to make the best of it.
I think that kids in grades 4 and up will enjoy reading this story.
Reviewed by Pam Smith, Media Clerk, Mill Creek Elementary School Library
Review shared in February 2022
Rating: ★★★★½ (4.5 stars)
Interest Level: Grades 4 and up
Operation Do-Over
Written by Gordon Korman
Balzer + Bray, an imprint of HarperCollinsPublishers
294 pages
Release Date: January 18, 2022
ISBN: 9780063032743
A review copy was provided by the publisher.
Tags:
2022 Children's Fiction
,
2022 Middle Grade Fiction
,
Friendship Fiction
,
Gordon Korman
,
Humorous Fiction
,
Pam Smith
,
Schools Fiction
,
Time Travel Fiction