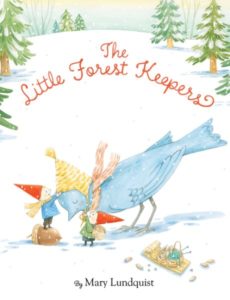 Written and Illustrated by Mary Lundquist
This is a sweet little adventure story of serving others. The illustrations are as sweet as the story and fit perfectly. We learn from the story that it doesn't matter where you live, you can be kind and help others. Someone always needs kindness and help.
Reviewed by Debbie Brady, Media Clerk, Oakwood Elementary School Library
Review shared in January 2022
Rating: ★★★★½ (4.5 stars)
Interest Level: Grades K-3
The Little Forest Keepers
Written by Mary Lundquist, Illustrated by Mary Lundquist
Balzer + Bray, an imprint of HarperCollinsPublishers
32 pages
Release Date: December 21, 2021
ISBN: 9780062287823
A review copy was provided by the publisher.
Tags:
2021 Picture Books
,
Animals Picture Books
,
Debbie Brady
,
Forest Animals Picture Books
,
Forests Picture Books
,
Friendship Picture Books
,
Gnomes Picture Books
,
Helping Picture Books
,
Kindness Picture Books
,
Mary Lundquist