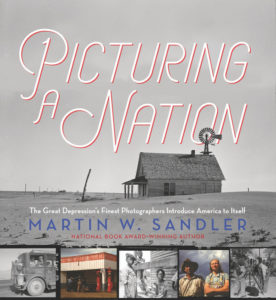 The Great Depression's Finest Photographers Introduce America to Itself
Written by Martin W. Sandler, Illustrated by Several Photographers
Picturing a Nation is a book that informs readers about life in the Great Depression. It is mostly pictures that show what life was like for Americans in all walks of life. I love how the photographs make you respect the people in them. They also show the perseverance of humanity. It also makes a stand against racism and sexism. I wish there had been more stories about people who had been photographed. This is a great book for all ages.
Reviewed by Lincoln Rygg, Student, Eisenhower Jr. High
Review shared in June 2022
Rating: ★★★★½ (4.5 stars)
Interest Level: Grades 3-10
Picturing a Nation: The Great Depression's Finest Photographers Introduce America to Itself
Written by Martin W. Sandler, Illustrated by Several Photographers
Candlewick Press
165 pages
Release Date: November 23, 2021
ISBN: 9781536215250
A review copy was provided by the publisher.
Tags:
2021 Children's Nonfiction
,
2021 YA Nonfiction
,
Great Depression
,
Lincoln Rygg
,
Martin W. Sandler
,
Photography
,
Primary Sources
,
Student Reviews
,
U.S. History