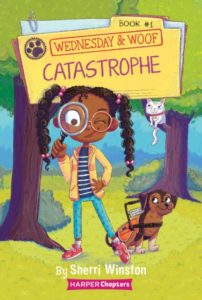 Written by Sherri Winston, Illustrated by Gladys Jose
Wednesday wants to be a detective some day. She does not take this lightly, and even has her own office on a boat in the back yard. Wednesday also has Juvenile Arthritis, but she refuses to let that get her down. Especially when Mrs. Winters's cat ends up missing right before she is to leave on holiday. Wednesday puts her detective skills to use, and along with her service dog Woof, works to solve the mystery and find the missing cat. Will they ever find her in time?
Read the book to find out.
This book is a great chapter book for beginning readers. The pictures are adorable, and the end of each chapter has little notes to try and keep the reader going. here are some examples:
"You've read one chapter, that's over 700 words."

"You've read four chapters, where do you think the clues will lead."

The book also helps mark the clues by counting them on paw prints in the chapters. This is the beginning of a new series of chapter books, and I can't wait for book 3 to come out.
Reviewed by Jalene Magee, Media Clerk, Redwood Elementary
Review shared in July 2022
Rating: ★★★★½ (4.5 stars)
Interest Level: Grades 1-3
Wednesday and Woof #1
Catastrophe
Written by Sherri Winston, Illustrated by Gladys Jose
HarperCollins
96 pages
Release Date: May 24, 2022
ISBN: 9780062975997
A review copy was provided by the publisher.
Tags:
2022 Chapter Books
,
Detectives Fiction
,
Dogs Fiction
,
Gladys Jose
,
Human-Animal Relationships Fiction
,
Jalene Magee
,
Juvenile Arthritis Fiction
,
Mystery Fiction
,
Persons with Disabilities Fiction
,
Service Dogs Fiction
,
Sherri Winston