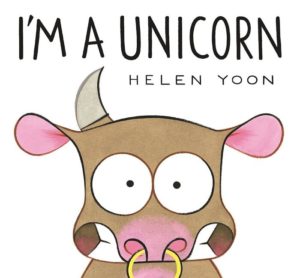 Written and Illustrated by Helen Yoon
I am a full-fledged adult and I was cracking up at this book! There are not too many words in the book, so the story heavily relies on the pictures. This is definitely okay as the animation in the illustrations really bring the book to life! The ox (or bull) in the story clearly shows their emotions on their face, giving it such a fun charm. Plus, it talks about unicorns pooping rainbows and the ox figuring out how he can poop rainbows– what kid wouldn't think that is hilarious? A very cute, silly read! It is sure to make a kid's day!
Reviewed by Chelsea Johnson, Librarian, West Kearns Elementary
Review shared in October 2022
Rating: ★★★★★ (5 stars)
Interest Level: Grades PreK-2
I'm a Unicorn
Written and Illustrated by Helen Yoon
Candlewick Press
32 pages
Release Date: September 20, 2022
ISBN: 9781536219760
A review copy was provided by the publisher.
Tags:
2022 Picture Books
,
Animals Picture Books
,
Calves Picture Books
,
Cattle Picture Books
,
Chelsea Johnson
,
Helen Yoon
,
Humorous Picture Books
,
Identity Picture Books
,
Self-Acceptance Picture Books
,
Unicorns Picture Books