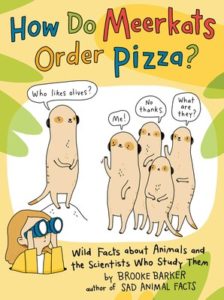 Wild Facts about Animals and the Scientists Who Study Them
Written and Illustrated by Brooke Barker
With an intriguing and humorous title, this book does not disappoint. How Do Meerkats Order Pizza? has found a fun and entertaining way of presenting several different animal facts. There are various sections, or chapters, each section focusing on a certain animal as well as a scientist who studies that animal. With drawings, text, and word bubbles, the book gives several fascinating facts about each animal group, shows how the scientist studies that animal, and provides fun conversations between animals. Students will not only learn a lot of information but will also have some laughs as they learn.
Reviewed by Jennifer Porter, Librarian, Crestview Elementary
Review shared in December 2022
Rating: ★★★★✩ (4 stars)
Interest Level: Grades 3-6
How Do Meerkats Order Pizza?
Written and Illustrated by Brooke Barker
Simon & Schuster Books for Young Readers
200 pages
Release Date: November 22, 2022
ISBN: 9781665901604
An advance reader's copy was provided by the publisher.
Tags:
2022 Children's Nonfiction
,
Animal Miscellanea
,
animal trivia
,
Animals
,
Brooke Barker
,
Humor
,
Jennifer B. Porter
,
Miscellanea
,
Scientists
,
Trivia
,
zoology