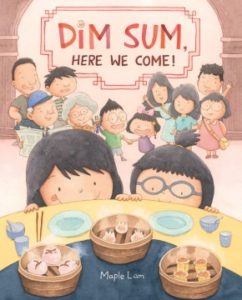 Written and Illustrated by Maple Lam
Learn the meaning of Dim Sum in this deliciously illustrated book. It tells the story of a family that gathers every Sunday at their favorite restaurant to share dumplings, rice noodles, egg tarts, and the family favorite–char siu buns. It is a celebration of family, food, and culture. The illustrations are engaging with end papers that include pictures and names of favorite Chinese dishes. This book will be a fun read aloud and a soon to be foodie favorite.
Reviewed by Kristen Hunt, Librarian, Whittier Elementary School
Review shared in 02/03/2023
Rating: ★★★★✩ (4 stars)
Interest Level: Grades K-3
Dim Sum, Here We Come!
Written and Illustrated by Maple Lam
Harper, an imprint of HarperCollinsPublishers
40 pages
Release Date: January 3, 2023
ISBN: 9780062396983
A review copy was provided by the publisher.
Tags:
2023 Picture Books
,
Asian Americans Picture Books
,
Chinese Americans Picture Books
,
Dim Sum Picture Books
,
Family Life Picture Books
,
Food Picture Books
,
Kristen Hunt
,
Maple Lam
,
Restaurants Picture Books