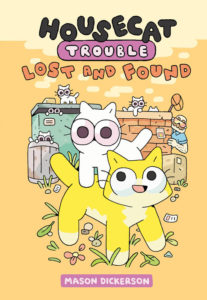 Written and Illustrated by Mason Dickerson
This book was… weird. Ha! It is definitely an odd story with house cats and alley cats working together to close a huge world-threatening portal that was letting in spirits that could take over the world. Weird. However, I do think a kid might find it entertaining. The story is easy to understand with simple dialogue and cute pictures. It really is just a bit odd to say the least. Gave me a good chuckle though!
Reviewed by Chelsea Johnson, Librarian, West Kearns Elementary
Review shared in January 2023
Rating: ★★★★✩ (4 stars)
Interest Level: 3rd-5th Grade
Housecat Trouble: Lost and Found
Written and Illustrated by Mason Dickerson
Random House Graphic
192 pages
Release Date: January 31, 2023
ISBN: 9780593173480 
A review copy was provided by the publisher.
Tags:
2023 Children's Graphic Novels
,
Animals Graphic Novels
,
Cats Fiction
,
Chelsea Johnson
,
Fantasy Graphic Novels
,
Housecat Trouble
,
Humorous Graphic Novels
,
Lost and Found Picture Books
,
Mason Dickerson