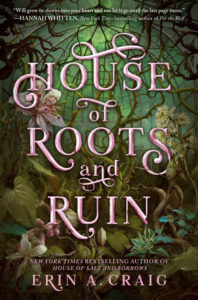 Written by Erin Craig
17-year-old Verity Thaumas longs to leave the shores of Salaan. When her sister Mercy sends word that the Duchess of Bloem would like her to do a portrait of her son, Verity can't wait to go to Highmoor. Her other sister, Camille, however, won't allow and reveals that she is a ghost. This makes her soon realize that she still sees ghosts, just doesn't know it. Despite her sister's wishes, she heads to Highmooor. There, the dark secrets of the place begin to come out and she stumbles upon a mystery. Meanwhile, a romance is blooming. Will Verity solve the mystery? What really is going on with Highmoor?
The characters are quirky, likable, and easy to relate to. The plot is suspenseful, engaging, and throws quite a few twists and turns in to the story. The gothic manor setting helps bring the story to life. With the ultimate plot twist being at the end of the book, readers will be begging for the sequel. People who enjoyed House of Salt and Sorrow and like gothic horror, mystery, and ghost stories will want to pick this one up.
Reviewed by Kira Moody, Salt Lake County Librarian / Olympus Jr. High Community Member
Review shared in June 2023
Rating: ★★★★★ (5 stars)
Interest Level: Grades 8-12
House of Roots and Ruin
Written by Erin Craig
Delacorte Press
Release Date: July 25, 2023
ISBN: 9780593482544 
An advance reader's copy was provided by the publisher.
Tags:
2023 YA Fiction
,
Erin Craig
,
Fantasy Fiction
,
Ghosts Fiction
,
Gothic Fiction
,
Historical Fantasy Fiction
,
Horror Fiction
,
Kira Moody
,
Mystery Fiction
,
Paranormal Fiction
,
Sisters Fiction
,
Sisters of the Salt